Measuring Equipment
Measuring Equipment
---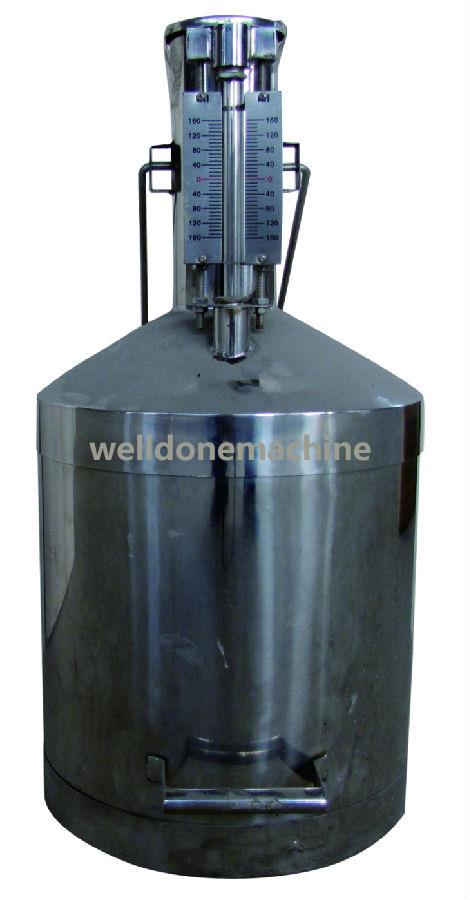 WDJL-CK



· AISTAR-Calibrated Measures & Volumetric Provers
· Builtto NIST Handbook 105-3 Standards, OIML R-120 and API Manual of PetroleumMeasurement Chapter 4
· Manufacturedof Series 304 Stainless Steel, which resists ordinary rusting, can be easilycleaned, resists organic chemicals, no slag and requires no internal coating.Series 316 stainless steel is available upon request
· CalibrationBy Standards Traceable to National Institute of Standards and Technology
· GraduatedNeck with scale that is sealed
· Abutterfly valve is standard with the drain at the center point. This is themost versatile unit for use in the field whether emptying into tank, using apump or gravity discharge. A ball valve is optional. It is used mostly inlaboratory applications or where special application exists. The drain wouldthen proceed at a 7 degree decline with the ball valve near the perimeter ofthe prover
· Reinforcingbands to prevent distortion of prover when full with liquid and when beingtransported
· Twospirit levels with seals are used as level indicators for provers more than 18"diameter, otherwise a circular bulls- eye level is installed.
· TwoLifting Loops are attached to top band of prover
· Standardcapacities are available from 5 Gallon/20 Liter to 1500 Gallon / 5000 Liter.Call for special volumes.
· AllStainless Steel Provers
· Steelor Aluminum skid
· ThreeBolt down - Adjustable Crank Legs to level prover
· StainlessSteel hinged locking cover for top of neck
· Anothercover is extended to protect the Gauge Glass from accidental breakage and canbe secured with a lock for safety.
· Sightflow indicator for ob- serving fluid flow down- stream of the shut-off valve.
---