WDFMC-50 Rotary Vane Flow Meter
WDFMC-50 Rotary Vane Flow Meter
---
WDFMC-50

WDFMC-50 Rotary Vane Meter with mechnical register,printer,air eliminator and strainer
WDFMC-100 Rotary Vane Meter with mechnical register,air eliminator and strainer
Rotary Vane Flow Meter are single case, angle-type,rotary vane,postitve displacement meters.
Superior accuracy and a wide range of products from gasoline to kerosene to fuel oils can be metered.
Compact,versatile design can be readily fit into nearly all installations.
Low pressure drop meter results in low meter slippage and thus superior meter accuracy.
Long service life,low friction ball bearings,fixed cam-type timing,and rugged construction give sustained accuraccy and long time operation.
Application includes: blenging,batching,dispengsing, inventoty control,and custody transfer of oils,solvents, chemicals,paints,fats and fertilizers.
Technical Specification:
Model:

WDFMC-50

WDFMC-80

WDFMC-100

Size:

50mm / 2 "

80mm / 3 "

100mm / 4 "

Flow Rate Range(L/min):

38-380

75-750

150-1500

Max.Working Pressure:

150PSI

Accuracy:

+0.2%

Repeatability:

0.07%
Construction: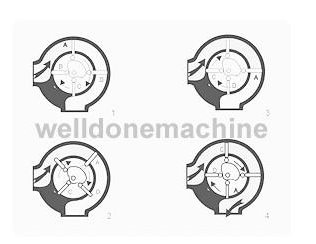 Inlet/Outlet Position Arrangements: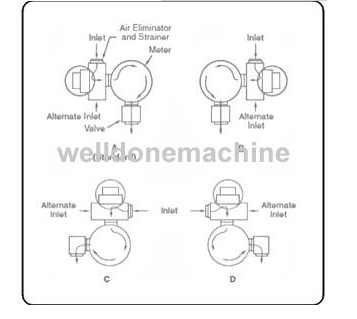 ---